The Maid's Basin
Bathhouse, Tavern, Inn and Entertainment Venue

Mateus, The Goblet, Ward 13, Plot 13
---
An oasis in the Goblet, named for the Goddess Menphina. The stately old Mansion rests, welcoming the weary along with the elite.

(Medium Roleplaying Free Company on the Mateus server of Final Fantasy XIV)
---
---
The Maid's Basin was started by Madame Gigice Gice, after the death of her third monitariast husband. She felt she was a bit long in the tooth to land a fourth, and with her rapidly dwindling fortune, went back to what she knew.. and started a brothel. It was fairly successful for years, until a mysterious fire razed the building to the ground. The authorities never found the cause. However, her pockets now plump with insurance money, Madame Gice decided to try again but with all-new staff. She firset hired Elin Swiftstrike, a courtesan of some years but that also had a good head for business on her shoulders, to handle day-to-day duties. The two of them went about hiring people for the Basin, one such person being Honey Jade. Honey was hired for security detail, being large and imposing. Soon she was made head of security, helping miss Swiftstrike with much of the business end of things. then, one day, Elin stormed out, saying she could no longer work for "That impossible woman!" and a day later, Madame Gice herself was found dead in her villa by her maid - of an apparent overdose from her favorite vices. Because of how Madame Gice's will was written.. the Basin was left to her highest ranking employee - Honey Jade. This surprised many, none more than Honey. While trying to get a handle on all the new responsibility, Honey made a decision - to fold the brothel side of the business. While it was a hit to the coffers and not everyone was pleased, she had hated seeing people treated as things. Now should anyone come asking about negotiable affection, they are quickly and with great velocity, shown the door.

Honey Jade leads the Basin to this day, both in mundane affairs.. and in her special "Community Protection" projects.
---
---
Tavern night every Friday evening from 6 PM EST - 10 PM EST
Goblet, Ward 13, House 13

Come sample a variety of lovingly made food and expertly crafted brews every Friday night!

Or just come and relax in our baths, or perhaps curl up with a book in our library!

Need something a little more exciting? There's always our Arcade, right above the bar! Flex your muscles on the game machines, or sharpen your wits in a game of cards. You might even win a prize!
---
Brimming Heart Pool Party
Held on the last Monday of every month, at the pools in the Brimming Heart! Come find us in the gazebo. Have a drink and maybe make a new friend!

Ward 13, from 7 PM -EST until 11 AM EST (or until maint kicks us off. whichever happens first!)
---
Special Event: TBA
---
The Maid's Basin is recruiting!
We are a Medium RP FC (as in, fairly Lore adherent, but not super-duper strict. Give us a plausible explanation for some weird shit and we're on board!)
We've veteran RPers, new RPers, and even a few non RPers.
We've been an active FC on Mateus for over two years, with no signs of stopping any time soon.
To become a member, we ask both player and character are 18+, and willing to go through an IC interview with either Honey Jade or Barabaen Ahldsthal. The interview is simply an in character chat to get to know your character, and what role to set them at. Generally, we can find jobs for anyone. If your interested, give us a shot!
We host RP events, DMed aventures, random RP and content. There is a Fellowship and Discord available. To apply, either throw an app in game, Contact a member to be directed to someone that can handle your application, or message Honey Jade on Discord at [email protected]
Or join the FC Discord! All are welcome! https://discord.gg/g9CXpjrJyu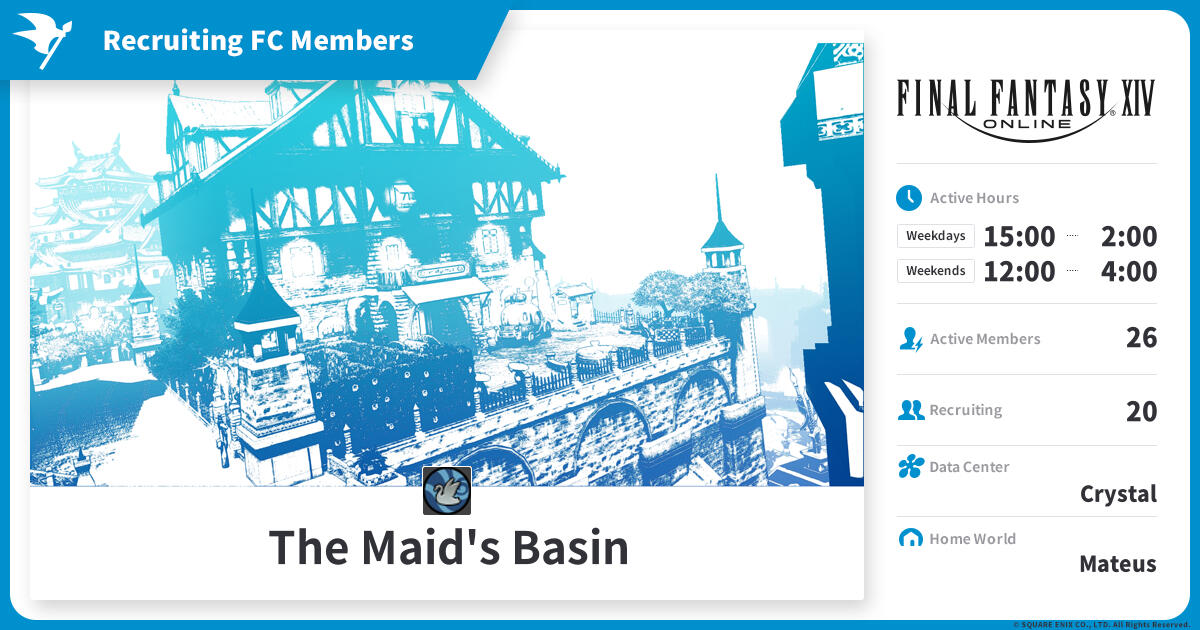 ---